Ten Things to Do That Cost Less That One Pound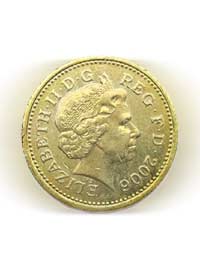 In today's money, one pound isn't worth all that much, especially versus the dollar or the euro. Nonetheless, there are still a few things that you can do with a quid. It's not too difficult to life a good lifestyle on a small budget. As an example, here are ten activities for you to do that will cost one pound or less.
Number 1: Buy Theatre Tickets
Fancy a night out at the theatre? The Royal Court Theatre in London offers eight standing seats at the bargain price of just 10 pence. You will need to arrive at the box office an hour before the show begins to get your seats. Bear in mind though that you might have to put up with a slightly restricted view.
Number 2: Get a Ticket to Ride
Planning on visiting some friends in another part of the country? Megabus and Megatrain offer budget coach and train seats with prices starting from just one pound for a journey from London to Sheffield.
Make sure that you book your ticket as early as possible (preferably up to 45 days in advance) to get the cheapest fares and you will also be charged a 50 pence booking fee.
Number 3: Be Part of a Live Television or Radio Audience
Why sit at home watching TV when you could be part of the studio audience yourself? If you'd like to watch a television or radio show being recorded you can apply for tickets, without having to pay a penny.
You can choose to attend anything from Swan Lake on Radio 3 to Strictly Come Dancing on BBC1, visit bbc.co.uk/tickets or if you'd prefer to sit in the Countdown look up channel4.com (the 'take part' section) to find out how to get tickets.
Number 4: Get a Designer Haircut
If you think that your hairstyle could do with a revamp, why not get yourself a designer haircut, without the designer price tag?
As part of their training programs, many hair salons and hairdressing schools offer trainee or apprentice haircuts at vastly reduced prices, or even for free. Just prepare yourself for something more than the usual 'short back and sides'…
Number 5: Spend a Day at the Gym
If you are in the mood for pumping iron or attacking the treadmill, you don't have to fork out for expensive gym memberships. Most gyms offer guests a free day pass. Fitness First, for example, will let non-members use the gym, take part in a workout class and even wind down with a free drink in the relaxation area.
Expect the gym to make every effort to sign you up, but remember that you're not under any obligation to join.
Number 6: There IS Such a Thing as a Free Lunch
If you've ever fancied yourself as a budding food critic, why not sign up as a mystery shopper? Simply register as a mystery shopper, then wait for emails telling you about any potential assignment. You might be asked to assess the quality of food in a restaurant, the friendliness of a pub's staff or the customer service in a particular shop.
Visit mysteryshop.org for more information on how to become a registered mystery shopper.
Number 7: Visit a Historical Site
If you enjoy fresh air and English history, you should know that the National Trust has one day a year where you can visit one its 300 properties for nothing.
The next Heritage Open Day is Saturday, 13th September and includes opportunities to see conservation in action, learn about traditional skills and take behind-the-scenes tours or view rooms not usually open to the public.
The day can work out at quite a saving as some sites can cost as much as £20 for a family visit.
Number 8: Watch the Latest Films for Free
If you're a movie buff, did you know that you can get to see the latest films for free, before they are officially released? Visit showcasecinemas.co.uk and fill in your details and they will alert you to any free screenings happening near to you.
Number 9: Enjoy a Pint of Beer
One of the benefits of the recession is the number of bargains available on the high street. The price war is now moving into publand, with Britain's largest pub chain cutting the cost of a pint of Greene King IPA beer to 99 pence. A price not seen since 1989.
If ale is not your drink of choice you can also get a bottle of San Miguel lager for the same price. Expect other pub chains to start following suit and lowering their prices to match.
Number 10: Spend a Day on the Farm
If you're thinking of a way to keep the kids entertained, why not visit a city farm? There are 120 farms run by registered charity farmgarden, and to visit costs absolutely nothing.
As well as getting the chance to feed the animals, there are supervised play areas. So why not take the kids on an educational day out, where they can learn at first hand where milk comes from?
You might also like...