Splitting the Finances When you Separate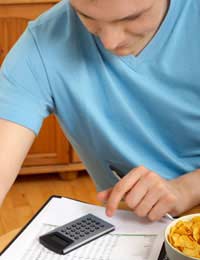 When you split up with a partner that you have been living together, whether married or not, splitting the finances can be a complicated and confusing time. With a break up there is usually a lot of anger, resentment and hurt that is caused and it can be difficult to separate this from the practical issues. Try to be fair about what you expect, make sure you get what you are entitled to and if you can't work it out between yourselves then you may have to seek some professional help.
Be Fair
Whatever the reasons and whosever decision it was to break up, emotions will be running high. When you are angry or upset it can be easy to use every chance possible to get back at your partner. Although it may be very tempting to be awkward or difficult, or to make sure they get as little as possible, this will not make you feel better. Temporarily, yes, but revenge will ultimately just eat away at you. Try your hardest to be objective about who gets what and any money that is owed.
Is it Really that Important?
When you are splitting up possessions try and concentrate on what you really want, not what you don't want the other person to have. If you know your partner loves a certain band then don't claim it is your CD, this will just make the whole process a lot more painful. Again, if you are trying to split finances or debts then let small amounts go to ease the situation. Know what you are entitled to and what is important and make sure you get it but don't stress the small stuff.
Seek Help
There are situation where it is just not sensible or possible to try and sort things out on your own. If you have a lot of entangled finances such a house, savings account or debts then you need to seek professional financial advice. This is especially true if you have not been contributing financially to a mortgage or savings but have contributed in other ways such as childcare or looking after the house. These are all complicated issues that need someone knowledgeable to help you work through them. The extra money you will pay out for this will be more than worth it for what you receive back both financially and in ease.
Prevention not Cure
The best way to deal with splitting your finances when you break up is to have planned it in advance. It is much better to have an agreement about what will happen when you are both in a reasonable and loving place rather than during a bitter split. This can be done through a pre-nuptial agreement if you are married or a cohabitation agreement if you are living together. Cohabiting partners have much more need for this as they are not given the same rights that married couples are and may struggle to a make a claim on their partner's finances.
It may not seem romantic to talk about what will happen when you split up but it can save a lot of complication and heartache if it does happen. Be fair and realistic about what you are entitled to and then seek legal help to ensure that you get it.
You might also like...