Cheap Ways to Keep the Kids Entertained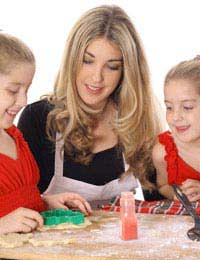 Kids are full of energy and vitality which is great, except when you are trying to keep them entertained. Whether it is after school, at the weekend, or in the holidays, trying to find a constant stream of things for them to do can be exhausting and expensive. However, with a few well planned tricks up your sleeves you will be able to have fun with them without blowing your budget.
Get Active
Whether it is a game of tag in the garden, a trip to the park or an organised sports club, getting the kids up and active is a great way to stimulate their minds and bodies. Invite other families over for an afternoon of games or set up some impromptu goal posts for a spot of footie. If you don't have the time or inclination to organise the sports yourself then sign them up with a local team.
After School and Holiday Clubs
There are lots of clubs available to keep the kids entertained after school or in the holidays. While some of them can seem a bit expensive, schools and local councils will often provide free or cheap options. Encourage them to take up a hobby such as drama or dance or expand their horizons by sending them to a group that offers all sorts of new activities.
Craft Projects
There is nothing like some glue and glitter to keep the kids entertained! It can be messy but it is a lot of fun and will keep them busy for hours. If you can't think of any bright ideas then buy yourself a couple of craft books or watch some kids' programmes with them and pick their favourite thing. The instructions for these are usually posted on an accompanying website.
Cooking
It is great to teach your kids to cook and get them involved in making food from scratch. The more involved they are in the process the more interested they will be in trying new things and eating healthily. Expand the project by picking a recipe, writing a list, having a budget and going to the shop to buy the ingredients. If your children are young then start off with a recipe that doesn't need any cooking. Liven the project up by decorating the finished articles or giving them as presents to family members.
Have a Picnic
Food, fresh air and fun, that's what picnics are all about. Plan ahead and invite some friends, make the food at home, and make it a special event. Go to somewhere open where the kids can run free or take them to a park to keep them stimulated. If it is a rainy day then set up camp in the living room, build a den and have an indoor picnic.
Write a Story
Send them off into their own little world by getting them to come up with a story. Give them a character, location or plot and get them to come up with the rest. Then get them to illustrate it, read it out loud or even act it out to bring the story to life.
Having fun does not have to cost a lot of money and with a little imagination you can keep the kids entertained without spending much at all. It is the interaction and stimulation that are important, not how
You might also like...