Making your House Work for You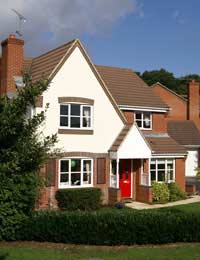 Property prices have rocketed and you've probably got a lot of money tied up in your house. However, with interest rates also up, as you struggle to pay the mortgage you can feel like your house is weighing you done. Luckily there a number of ways you can squeeze some extra cash out your house without having to sell up.
Renting out your Driveway
In areas where parking spaces are hot property such as in city centres, near sporting arenas, or train stations, you can make a nice bit of pocket money by renting out your driveway. There are specialist websites that deal with this service or you can advertise online or in a local newspaper. It is up to you whether you charge a one off fee or rent it out on a regular basis to commuters, for example.
Becoming a Film Set
How do you fancy starring in a film? Ok, well not you exactly, but your house. There are thousands of tv programmes and films made every year and they all need locations to film in. If you don't have a stately home or penthouse apartment you can get involved as there is always demand for 'regular' houses. You need to be realistic about what this involves though. The crew will take over your home and dominate your life while they are filming. They will want to move furniture and maybe even paint your walls a different colour but will put it al back to normal before they leave.
Short Term Lets
While you might not someone permanently living in your house with you, you may want to consider short term lets. Perhaps you could host foreign students who are coming over to study for a term. Or even professionals who are on secondments from their normal jobs. Alternatively, you can rent your whole house out for a short time if you are planning to a take a long holiday. Either way, test the water by committing to a few days or a weeks first to make sure you are comfortable with it before jumping straight in.
House Swapping
While house swapping doesn't technically make you any money, it definitely saves you a significant amount. By swapping your home with someone else you get free accommodation where ever you want to go and make your holiday cost next to nothing. It may seem a bit daunting to let a stranger into your home but you can gain reassurance through reviews and recommendations from previous users.
Making money out of your property doesn't necessarily mean you have to sell your home. These options will give you a nice bit of pocket money and could turn out to be a bit of fun as well. Remember though, if you are going to make income on the side then you need to keep a record of it and declare it to the taxman. If you don't and they find out then you could be liable for fines and interest. Your home is a very personal space so think carefully before deciding to let others in. Talk to other people who have done it and make sure you are realistic about what the venture involves.
You might also like...