Planning Ahead for Christmas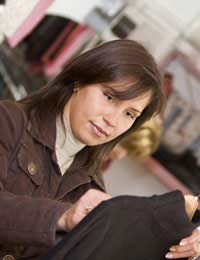 Christmas is the happiest time of year filled with children's laughter, family and friends. However, for many people, facing the reality of what they've spent to make the time so special is the most depressing time of the year. Of course you want to splash out and have a good time but not at the expense of the rest of the year. By planning ahead and being realistic about what you can afford, you can make the Christmas cheer spread a little further.
Santa's Sales
So Christmas is officially over and everyone is rushing out to spend their money in the January sales. It may seem like the last thing you want to think about at the time, but now is a great time to pick up some Christmas presents for next year. Everything has huge reductions on it and unless it is the latest CD or pair of trainers, nobody is going to know that you bought it in the sales. If you can get more for your money then why not go for it - you'll just need to find a way to keep prying eyes away for a whole year!
Eyes on the Prize
When you are out shopping you often see things that you think would be perfect for someone else. Then you tell yourself not to be silly as their birthday or Christmas is ages away. Ignore this little voice in your head and just buy it. Instead of frantically running around on Christmas eve and buying random presents you will have some great personal items ready and waiting. Plus, buying the odd present here and there won't seem like much and will take some of the burden off your wallet at Christmas time.
Dedication
During the year, when you are struggling to pay for your everyday expenses, it can seem impossible to save for anything else. However, just the smallest amount put away regularly will soon add up. If you manage just £2 a week then you will have over £100 towards your Christmas budget which will make a real difference. Open up a separate bank account that is purely for saving for Christmas. Then set up a direct debit so the money automatically leaves your account. You will hardly notice it is gone but will have a head start in December.
Make a Plan
One of the worst mistakes you can make is to go out Christmas shopping without having a list of what you want to buy. Everything looks shiny and attractive and it is easy to stock up on things you don't need. Before you go, sit down and make a list of what you are going to buy for each person and then stick to it. Compare prices in a few different shops to make sure you get the best price and make the most of any offers.
The same applies to food. It is easy to go over the top at Christmas but it is just a waste, Think realistically about what you need and then only buy that. Shopping online is a great way to avoid temptation as you won't be distracted by anything extra.
Christmas should be fun and a chance to go a little over the top but if you go too crazy it will only catch up with you. By planning ahead you can have the Christmas that you want at a price that you can afford.
You might also like...