Budgeting For Your Wedding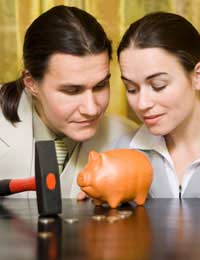 It's the best day of your life and you are (hopefully) only going to do it once so you want your wedding to be as special as possible. With celebrity weddings splashed across the magazine stands and it becoming the norm to spend thousands of pounds on the big day, it is easy to get swept along. However, being in a lot of debt is not a great way to start married life so think sensibly about what you can afford and what it important to you. After all, it is the vows that are the important thing, not have the perfect centre piece.
What Can You Afford?
It is easy to get carried away and ignore this simple question. Most women have dreamed of their perfect wedding day since they were little girls and anything less just won't do. However, weddings are expensive and you need to be realistic about what you can achieve. Usually both sets of parents will contribute towards the big day so see how much they can offer and how much you can afford to put in and then budget within that amount. Starting wedded life with a massive credit card bill will soon snap you out of the honeymoon period.
Please Yourself
It is your wedding day yet it can seem like everyone else has an opinion on how you should do it. Obviously you want those who are close to you to be happy but ultimately you need to please yourself. Just because your mum wants two hundred guests or your father in law thinks you should have an open bar, doesn't mean you have to. It can be a bit of a juggling act and PR mission to keep everyone happy but if they really love you they will understand and support your decisions.
Where do your Priorities Lie?
Is it more important for you to have a great dress or beautiful flowers? Do you want an extravagant honeymoon or fireworks? You probably don't want to compromise on any of these factors but you need to be realistic and decide which aspects to cut back on. Perhaps you want an intimate wedding with only a few guests who you can treat or maybe you want a huge wedding but will have to be less generous. All of these are personal questions but things that you need to think about before rushing in and blowing the budget.
Make the Most of your Friends and Family
Do you have a friend who is a great photographer? Or does your sister make amazing cakes? By using the skills of your friends and family you can save a lot of money and make your wedding a very personal occasion. Be realistic about what you ask of them and be willing to cover any expenses generously.
Take Wedding out of the Equation
Tell a florist that you want flowers for your wedding and you can almost see the pound signs flashing in their eyes. Prices instantly rise when a wedding is involved but it doesn't mean you are necessarily getting anything more special. If you are having a simple wedding there are some beautiful dresses you can buy from the high street and you can order a generic cake and decorate it for the wedding yourself.
Weddings are magical occasions and you want to be a memorable day but blowing the budget will make you remember it for all the wrong reasons. Have a budget, decide what your priorities are and use your friends and family to help you achieve the most you can for your money.
You might also like...