Have Yourself a Debt Free Christmas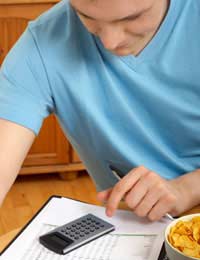 Christmas may well be the most wonderful time of the year, as the song suggests, but it is also the most expensive time of the year too. According to uSwitch, the average person spent over £850 over the Christmas period last year. Most of this will be spent on credit cards that will take us most of the rest of the year to pay off.
A Less Prosperous Christmas Ahead for All of Us
After two years of living in a world of rising costs and unemployment increasing numbers of families will be looking to rein in their spending this year. Yet despite the need to keep spending under control, this Christmas doesn't have to be a miserable one and there are things you can do to ensure that you have a debt-free Christmas.
The key to having a debt free Christmas is to adopt simple budgeting principles. This means planning ahead. According to a survey by a leading high street bank the primary cause of spending too much at Christmas is failing to set a budget and stick to it. More than 40% of people forget to draw up a budget in the first place.
Setting yourself a Christmas Budget
Work out how much you can afford to spend this Christmas. Make a detailed list of the people you need to buy presents for, the maximum you can afford to spend on each present and, where possible, write down the specific present you wish to get each person.
If you do this you can look for presents online, saving yourself time wandering aimlessly round the shops and you can find yourself the cheapest price for each gift. It will also mean that you remember everyone's present and no-one gets two of the same thing.
Be Realistic
Drawing up a budget is a good starting point, but it won't work if you don't stick to it or if you don't make it realistic. Don't forget to factor in the costs of your Christmas food, decorations, alcohol, wrapping paper and cards and any other 'extras' that when you add them all together could burn a big hole in your budget.
Get your Shopping Done Early
Many people leave their Christmas shopping until the last minute, in the mistaken belief that there will be more bargains to be had in the last days up to Christmas. This rarely works.
Chances are you will end up failing to find the presents you were looking for and end up having to spend more than you budgeted. The online bank Egg has estimated that the average 'last minute' shopper winds up spending £150 more than they anticipated on presents.
Do your Shopping Online
Christmas shopping might conjure up images of carol singers and pretty light displays, but the reality is usually somewhat more manic. Finding the presents you want while fighting off crowds of shoppers can be stressful and increases the likelihood of you getting frustrated and ending up overspending.
The smarter option is to shop online instead. Not only does this mean you get to avoid the crowds, but you can use price comparison websites to help save you money too. You can also use cashback sites to claw back some of your outgoings.
Spend Less
One of the simplest ways to have a debt-free Christmas is to simply spend less. It is easy to get caught up in the mood of Christmas and throw money away, without thinking about how depressing the months of January and February can be when you've no money to spend.
A useful way of curbing your Christmas excesses is to agree a fixed amount on your spending with family and friends so that no-one gets tempted to 'out-do' one another with the best presents.
Instead of buying presents for individual family members why not buy a single 'family' present instead? Remembering that it is the thought that counts. A debt-free Christmas doesn't have to be an unhappy one.
You might also like...