Tips for Everyday Budgeting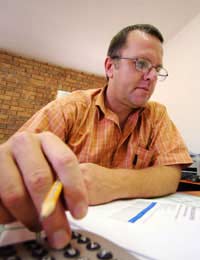 Life is expensive, it's a fact but by budgeting your money, however much you've got, you will be able to make it go further and not feel so worried and anxious about your finances. It can feel a it depressing and boring to think about where every penny is going but by doing so you will stop yourself overspending and be able to cut down on unnecessary expenditures. This will leave you with a bit more spare cash that you can spend on something a bit more interesting!
Knowledge is the Best Weapon
The best way to start budgeting is to understand exactly what you spend your money on at the moment. For one month keep a record of every single penny you spend. The big expenses such as mortgage payments or bills are easy to keep track off but it is the smaller purchases such as the odd coffee or shoes that were in the sale that are the things that slip through the cracks. It may seem a bit tedious but you will be surprised at how much you learn about yourself and your spending habits. Knowing what you do and understanding the true state of your finances is the only way to go about fixing it.
Separate and Conquer
Now it is time to sit down and separate out what you spend on what. Give yourself broad categories such as bills, food, clothes, entertainment and then more specific ones such as cinema, dinner with friends and magazines. All this will help you see where most of your money goes and areas that you can cut back in. Don't be drastic with your new aims about what you will spend as it is not realistic. Think sensibly about where you can cut back – a few little changes will add up to a big difference.
Know Your Weaknesses
It is all very well saying that you are never going to buy a coffee from Starbucks again or that you will only buy one gossip magazine a month but it is a lot more difficult to actually stick to it. Know which things will be your downfall and try to avoid them. Or, allocate a reasonable amount of money to them and cut back in other areas. If you make your life devoid of any pleasure then you will soon give up completely. It is much better to cut back slowly and choose areas that you know you won't miss rather than taking away all the fun things that make you happy.
Expect the Unexpected
If you budget down to the very last penny then you won't be left with any kind of contingency fund. Everything might seem to be running smoothly now but that is just the time when your boiler will stop working or you need a new clutch for you car. Although it may seem like you haven't got enough money anyway and that saving is out of the question, putting away any amount regularly will soon add up and you will be grateful for it when an unexpected disaster rears its ugly head.Budgeting is never easy and there are temptations out in front of you every day. However, knowing yourself and your spending habits and allowing for a few treats and a contingency fund will leave you in much better control of your finances and able to sacrifice a few things in the knowledge that your finances are under control.
You might also like...