How to Lower Your Pet Care Costs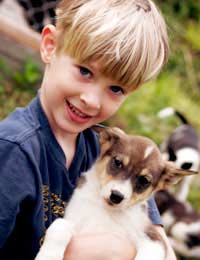 The recession means that most of us are looking for ways to tighten our belts and reduce our outgoings, and this has been especially bad news for Britain's household pets.
We may be a nation of animal lovers, but The Royal Society for the Prevention of Cruelty to Animals believes that the recession has led to a worrying increase in the number of pets being abandoned. More than 30 pets a day are now being dumped by their owners.
There are ways, however, for pet owners to cut their costs without having to let go of your furry friends. Follow our top tips to cut the cost of pet care.
Choose a Mongrel Pet
Some pets are more costly and high maintenance than others. If you are thinking of getting a pet, try to avoid choosing one that costs a fortune and will be expensive to care for. Many pedigree dogs for example are both expensive to buy and often prone to ill health, which means you could be forking out thousands in vet fees.
Buy Pet Food in Bulk
By becoming a smart shopper you can lower your regular pet food shopping bill in half. If you buy your pet food in bulk, it will work out cheaper. Buying a 2.5kg bag of Pedigree dog mixer food from the nation's largest supermarket will cost you £2.37, although a store-branded value pack weighing 4kg will cost you just £1.54.
Buying the value mixer means that you can spend a little more on wet food, something your dog will thank you for! Buying in bulk also means fewer trips to the shops. You should also look out for special offers and 'bogofs' (buy one get one free deals).
Pet Insurance Pays
Just like humans, pets can fall ill from time to time. The RSPA estimates that more than half of all UK pets will require veterinary treatment at some point each year. However, vet fees are often very expensive and work out at an average of £220 per visit.
If you want to avoid costly vet bills, take out pet insurance. Insurance will cover you against some of the costs of emergency veterinary treatment and can also keep paying out if your pet requires ongoing medical care. Some policies also provide legal expenses cover, which could come in handy if your dog takes a particular dislike to your postman's ankles. Paying out a small monthly premium could end up saving you thousands of pounds over the course of a year.
Make sure that you shop around for the best insurance deals. Comparison websites are not just for car insurance these days. Have a look online and you could find yourself with a cheaper insurance deal.
Keep Pet Jabs up to Date
Some pet owners may try to cut costs by dodging their pets' regular vaccinations against nasty diseases. Be careful, if you skip the vaccinations it could turn out to be an expensive mistake. If your pet falls ill and you missed your pet's vaccinations you could find that your pet insurance won't cover the cost of the bills.
Don't Rush to the Vet
Don't be too eager to take a trip to your vet if your cat unexpectedly sneezes. Sometimes minor ailments can treat themselves, so it is worth waiting until you are sure your pet is ill, before getting the vet involved. Insurer More Than has published research that unnecessary emergency vet appointments cost more than £100 million a year for pet owners, so sometimes waiting is best.
Shop Online for Pet Medication
It's amazing what you can find over the Internet these days. Did you know that you can buy pet medicine over the web? A flea treatment for example can work out considerably cheaper if you purchase online.
Avoid New Additions to your Household
Finally, one of the smartest ways to keep the cost of petcare to a minimum is to ensure that your animals cannot breed. Getting your pet spayed or neutered may sound like an unpleasant way to treat your loved one, but it really makes sense if you are living on a tight budget. Also, if you have a low income you may be able to get the operation subsidised. The Blue Cross offers subsidies for pets whose owners are on benefits.
You might also like...