Stay Fit for Less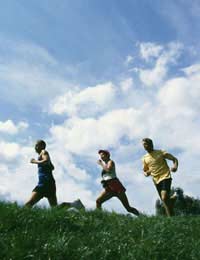 The media is obsessed with diets, exercise plans and buying organic food and you can feel under pressure to shape up. Beyond that, it is always a good idea to stay fit and healthy – eating well and exercising – but it can feel like it is also an expensive pastime. Looking after yourself doesn't need to cost a lot of money though and there are plenty of ways to keep fit, eat well and not blow the budget.
Get Moving
It may seem simple but the best way to lose weight is to east less and move more. You don't need an expensive gym membership or personal trainer to do this and you don't need to master any complicated routines. Moving more can be as simple as taking the dog for a walk or dancing round the living room with your children. It can mean taking the stairs instead of the lift or getting off the bus one stop earlier. There are hundred of ways to incorporate exercise into your everyday life that won't cost you a penny. Find something you enjoy doing such as cycling, dancing or long country walks and do it as often as you can.
Here's One I Made Earlier
If you listened to all the adverts and shopping channels then you would think you needed a load of expensive workout gear and gadgets to stay fit. This isn't the case. Anything that builds resistance will help you tone up and look better. Use a couple of cans as weights or fill up some small bags with lentils or rice. You can use your coffee table or chair to do shoulder presses and one legged squats and even rope your children in to act as weights! For workout gear all you need are some comfy clothes that you can move easily in.
Buy Fresh
A common excuse for not eating healthily is that it costs more. This just isn't true. Yes, organic food from the supermarket is overpriced but there are plenty of other ways to get the nutrition you need. Start by cutting out processed food and ready meals. These are full of hidden salt and calories and also cost a lot more than making things from scratch. If you have a local farmer's market then go there to buy your food or just buy regular fruit and vegetables from the supermarket – they are much better for you than none at all! Alternatively, why not start a vegetable garden? It's very cheap, provides you with tasty fresh food and can be a really fun, satisfying project.
Invest in Some Motivation
If you really don't where to start then why not turn to the experts. You don't need your own personal trainer as with the new surge in celebrity workout videos there are some great sources in your local shop. Buy a good cookbook and a fun workout video and you will be well on your way to getting some motivation at the fraction of the cost you would pay someone to shout at you. Choose a video that is tailored towards an activity you enjoy such as dance or yoga and then get moving!
Staying fit and healthy is important but there is no need to spend a lot of money to achieve it. Keeping things simple by incorporating small changes into your everyday life will mean you are more likely to stick to it and won't waste a lot of money unnecessarily.
You might also like...