Creating a Plan to Get Out of Debt: A Case Study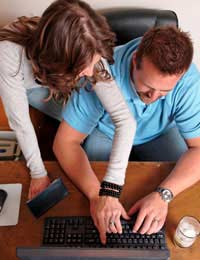 If you feel that your debts are starting to get out of control, don't ignore them or try to borrow your way out of trouble. Your debts will only escalate and you could end up in court or even lose your home.
By setting up a debt repayment plan you can get yourself back on track. In this case study we look at how husband and wife John and Siobhan created their own plan to get out of debt.
Case Study - John and Siobhan
John and Siobhan have been running their own hairdressing salon business for ten years. However, over a few years ago the business began to struggle and they started accumulating debts.
John explains "our business started to suffer a little while back when a large hairdressing chain opened up on the high street near us. Since then our takings have taken a big hit and it has been harder to make ends meet.
"We have a mortgage on our house, plus two secured loans on the hair salon premises. The mortgage lender has been very supportive of our problems, but we can't say the same for the secured loan providers."
John and Siobhan were getting very worried. They had fallen into arrears on their mortgage and, although they had managed to come to an agreement with their mortgage provider, they were also struggling to keep up with the secured loan repayments. Credit card debts were also piling up. Things were looking bleak.
Recognising the Need for Change
John recalls "at this point we must have had debts on top of our mortgage of around £35,000. We realised that if we didn't do something now we were going to lose our business, our home and everything we had."
Siobhan suggested we contact the National Debtline. At that point we were desperate, but it turned out to be the best phonecall we've ever made."
The National Debtline was able to offer John and Siobhan free and confidential advice. They explained that while it was a good first step that they had reached an agreement with the mortgage company, they were still massively overstretched with the repayments they had to make on the mortgage, secured loans and credit cards.
Negotiating More Favourable Repayments
With a reduce income coming into the shop, they had to renegotiate the repayment terms on all their debts.
"This was something that we had started with our mortgage company, but the advice we received was that our situation was serious enough that we should go back to them and try to get them to agree to even smaller repayments. We were both taken aback when they agreed", John said.
"Even though we didn't have such a good relationship with our other lenders we made the same request. Although we didn't get our payments down as much as we'd hoped, they did meet us halfway."
Bankruptcy as a Potential Solution
Now that John and Siobhan had some breathing space, they could give some thought to their long-term plans. The National Debtline explained that bankruptcy was an option, but that they would lose their business and it would take them several years to recover.
John and Siobhan both decided that bankruptcy was not the route they wanted to go down. John explained; "although there's less stigma with bankruptcy these days it was just something we didn't want to feel forced into if we could avoid it. We both agreed that we would continue with the plan to repay our debts".
They started by looking objectively at their financial situation, with the aim of determining how they got into such dire straits. It was clear that their business was no longer a success, and it was proving a great drain on the resources and also causing a strain on their relationship.
"We drew up a budget that showed our income was well below our outgoings, so it was clearly unsustainable. It was hard to accept, but we knew that if we wanted to repay our debts we had to change our business and make sure that our incomings were more than our outgoings."
A Happy Ending
John decided to take another job, away from the salon, and they took on a partner who paid a stake to join the business. The money from the stake was used to pay off John and Siobhan most expensive credit card debts first of all, and part of John's new wages were set aside to keep up the secured loan repayments.
Two years later, John and Siobhan have reduced their debt dramatically, and their business is making a profit.
John said "bringing in another partner to the business was a good idea because they brought in a whole new clientele, but having the extra monthly wage coming into the house was absolutely vital. It meant that we had enough money coming in to cover our repayments and we could work on reducing our debts rather than adding to them.
"We also drew up a revised budget that meant we cut down on a few luxuries here and there. It was worth it to see our debts slowly start to reduce – creating a plan and sticking to it really took the pressure off us."
You might also like...