Ask for a Pay Rise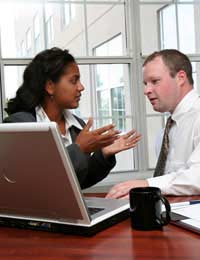 Most people would like to get a pay rise but asking for one can be a whole different scenario. If you really think you deserve one and aren't just trying your luck then plan your approach and make sure you are armed with all the facts and figures you need to back up your request. It can be a daunting prospect but if you don't ask, then you will never get it.
Timing is Everything
When you decide to ask for your pay rise can really make a difference to whether you are successful or not. Firstly, don't rush in during your first month demanding more money, make sure you have shown commitment to the company first. If you have just completed a big project or closed a deal then ask now, while it is fresh in your manager's mind or have been there for six months or a year. Pick a time when your boss is in a good mood, has some spare time and appears responsive.
Know Your Reasons
There is no point asking for a pay rise if you can't tell your boss why you deserve one. Sit down with your original job description and compare it to the role that you are actually doing. Note down how you exceed your requirements and any specific instances in which you have gone beyond the call of duty. Your boss will want to know what you are contributing to the company that makes you worth the extra money.
Practice Your Performance
In any stressful situation it is easy to get tongue tied and forget all your great reasons and examples. Sit down with a friend or partner and get them to go over everything with you. Get them to ask you the kind of questions that your boss would so you can practice thinking on the spot. Before you go in to the actual meeting go over all your notes and make sure your reasons are fresh in your mind.
Deal Or No Deal?
It will not help your case to approach your boss with an ultimatum but you should have an idea of what you are willing to settle for. If you are just giving it a go and intend to stay in the job even if they say no, then fine. If, however you think that you truly deserve more money and will leave if they don't offer it then you need to be clear of this. Don't mention your intentions initially as you may get the raise off your own merit but be prepared to approach the subject if they reject or request.
Asking for a pay raise in never much fun but the rewards it may bring can be. As with anything, the more preparation you put it in, the more likely you are to succeed. Plan your approach well from the timing to a well thought out list of reasons why you are valuable to the company and what you have done to prove it. Decide what you are willing to settle on and then take a deep breath and ask your boss the big question.
You might also like...