Save on Electronic Goods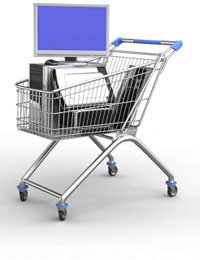 There are so many different electric goods available these days that there is always a great temptation to buy something new. Even if you don't need something there are a lot of things to want and many ways to part with your money. However, they are also invariably expensive but there are a number of ways that you can manage to get them cheaper.
Go Abroad
Buying electronic goods in the UK works out particularly expensive and cost a lot more than the rest of the world. Going abroad to buy your electronics will save you a lot of money. With the dollar being so weak, America is a great option. Before you make any big purchases though, check that the item is compatible with UK voltages, that the guarantee is valid and whether you will have to pay duty on it when you bring it back into the country.
Wait For the Sales
It may be frustrating not to buy your electronics when you first want or need them but if you wait for the sales you will get a lot more for your money. Before you head for the sales have a clear idea of it is that you specifically want. Be prepared to turn up early, stay focused and don't be swayed by a deal that doesn't match your criteria.
Shop Around
It is not only dedicated electronic outlets that sell electronic goods any more, supermarkets and department stores all do so too. When you are looking for an item it is a good idea to shop around and look at a number of different retailers. Shopping online is also a great way to get deals. Check reviews of the company and be sure they are reliable before placing an order.
Get Last Season's
The latest thing is always being launched when it comes to electronics. Although they are often not much different to the old version, this is a great time to bag a bargain. When a brand launches a new product, the item it is replacing will often be greatly discounted even though there is nothing wrong with it. So keep your eyes open for new product launches and pick up their older brothers.
Ask For the Display Model
Another good way to get a bargain on electronic goods is to see if you can buy the display model. It may not come in a nice box and could be slightly faded or scratched but it is essentially the same product, only for a lot less money. Be sure to check it over thoroughly before taking it home and ask about guarantees.
Electronic goods can make a very expensive purchase, but like most things, if you put in a bit of time and effort you can get more for your money. Plan a trip abroad and take advantage of the cheaper prices and good exchange rates. Have a look at a number of different retailers to find the best deal and wait to make big purchases in the sale. Also, look out for last season's products and consider asking for the display model.
You might also like...