Improve your Credit Report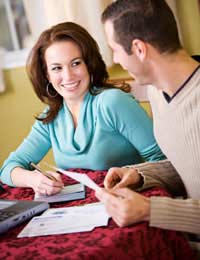 Many different companies will use your credit rating to decide whether to give you a loan, credit card or other financial commitments. Just a few small indiscretions or mistakes on your credit report can have a big affect on your suitability in the eyes of these companies.
It is easy to get hold of your report and only costs about £2. Just contact one of the main agencies and take control of your credit.
Change Any Mistakes
The first thing that you should do when you get a copy of your credit report is to check that everything is right. There are many reasons why there may be mistakes on it. If somebody has come after you for debts that weren't your fault or that you didn't owe, they may still appear on the report.
If there are any mistakes on the report then contact the credit agency and explain them and they will add your comments to the report or take any glaring untruths off.
Pay On Time
If you consistently pay your credit card or loan repayments late then this will not look good on your credit report and will lower your rating. Even if you only pay off the minimum every month, make sure you do it on time.
The easiest way to make sure that this always happens is to set up a direct debit. Set it at the minimum and then if you can afford more you can always add extra as when you can.
Take Out a Loan!
Taking out a loan may seem like you are going against getting a good credit report but there is method in the madness! If you have never taken out any form of credit then, as silly as it may seem, it can actually work against you. This is because you haven't proved that you can pay off something on time. Taking out a credit card and paying it off in full every month won't cost you anything but will help your rating.
Watch Who you Associate With
Your credit report doesn't only cover accounts and loans that you have taken out on your own but also joint ventures. If your partner or ex-partner has bad credit then this can lower your credit score because you become associated with them.
It can also happen if somebody at your address has bad credit. If this is the case then contact the credit agency and explain that it relates to somebody else, not you.
Credit reports can seem like some far off financial institution that you don't understand but actually they are very easy to get hold of. Once you have yours, check that it hasn't got any mistakes in it and if it has, get them rectified.
To make sure that your credit score is good, pay off your bills and loans on time and if you don't have any, get some to prove that you are responsible. Finally, be careful who you take out joint accounts or loans with as their credit rating will rub off on you.
You might also like...