Go Shopping and Make Money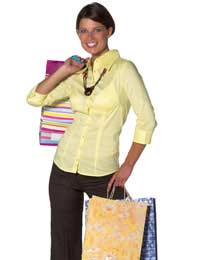 If you love to shop then why not make the most of it by earning yourself a bit of extra money along the way. It may sound like a contradiction but there a number of ways to squeeze some money out of your next trip down the high street. Then those shoes you have your eye on may be yours sooner than you think.
Mystery shopping
If you've ever experienced bad customer service then this is the way to get your own back! Mystery shoppers are employed to visit a specific store and undertake a task such as enquiring about a certain size. Then you have to assess different aspects of your visit and fill in a report. Each trip is not paid a vast amount but if you fit it in around your normal shop then it is a nice bit of pocket money and give you a rather satisfying sense of power!
Bag a Bargain
Isn't it frustrating when you see a brilliant bargain in a sale but it is the wrong size. Well, you should buy it anyway. If you want it then it is very likely that someone else will too – and will pay you for it. By keeping your eyes open for great bargains you can then sell them on Ebay and make a profit. Obviously this is not guaranteed and can be a bit of a hit and miss approach but you will soon get a feel for what sells and what doesn't. It is a fun way to make some money and can feel a bit like personal shopping for someone you've never met!
Cashback
There are a number of different credit cards available that will give you cashback on your purchases. Whether this is a percentage of what you spend or rounding up what you spend and giving you the pennies back, they can be a good way to make a bit of money. Don't try to take advantage of these deals if you are bad at managing your money or paying off your credit card but if you are sensible then they are a good bonus.
Pick up Some Points
Hundreds of high street shops and supermarkets have loyalty cards that give you points every time you buy something. Some are a lot better than others but it is surprising how much you can build up through your everyday shopping. For some of these it is a case of cashing the points in and using the money while others you can get better value by using the points for special offers. Either way, there is nothing to lose by getting your hands on all the loyalty cards you can and taking advantage of what they are willing to give you.
The next time you walk down the high street with your wallet burning a hole in your pocket, have a think about all the ways you can plug it. None of them take much time and can actually be quite fun plus a little bit here and there can go a long way when you are saving for that must have item.
You might also like...