Your Daily Finances: Frequently Asked Questions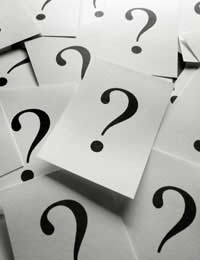 Are you wondering what impact recent economic events will have on your daily finances? Here are some answers to some frequently asked questions.
What Does the Latest Interest Rate Cut Mean for Me?
The Bank of England has recently announced another cut in the UK base interest rate, the sixth reduction in as many months. The rate now stands at just 0.5%, the lowest level since the Bank of England was created over three hundred years ago.
If you are fortunate to have a tracker mortgage, then this is good news. Because you should have benefited from the recent cuts. Other mortgage-holders on fixed rate deals may feel less pleased.
If you have a savings account, you will certainly not be thanking the Bank of England for their mission to keep driving interest rates lower. Most savings accounts are now offering a rate of return of between 0% and 1.25, not much better than keeping your cash under the mattress.
This latest cut is yet another attempt by the Bank of England to reassure consumers and companies that they are doing all they can to fight off the recession. But with rates now so close to zero, there's a concern that rate cuts are proving no longer effective, and that the Bank will soon have to start printing more money to stimulate the economy.
One thing is certain, although interest rates are at historic lows now, they will start to rise at some point, which could bring its own problems in future.
Should I Bother Taking out an ISA this Tax Year?
Ever year around early spring, the 'ISA season' begins in earnest. No doubt you will have already seen the adverts in the national press and on television, for investment savings accounts offering tax-free returns.
You can choose to invest up to £7,200 into a stocks and shares ISA, or £3,600 into a cash ISA. However, the FTSE 100 index recently hit its lowest valuation point in six years, while over in the US the Dow Jones is down to a level not seen in 12 years. A timely reminder that stockmarkets can go down as well as up.
What about just taking out a cash ISA instead? Well, as already mentioned, low interest rates mean low levels of returns, so your investment may grow at a snails pace.
Most economic experts are expecting the current recession to last well into next year, so if you have any debts, such as outstanding credit cards or personal loans, you should think about using any cash you have to pay these debts off first. There's no point getting a 1.0% return on your savings if you are paying off interest on your debt at a rate much higher than that.
However, if you do have money to invest, and you would prefer to avoid paying tax, then an ISA should be considered as a good home for your money, if only for the tax benefits available. Make sure that you obtain good impartial financial advice before making an investment.
How Soon Before House Prices Stop Falling?
The UK housing market is certainly having a tough time of it, and in the last eighteen months has fallen more heavily than ever before. In central London, house prices are down 20%, in previous recessions the largest fall was just 13%.
Of course this recession is different, because the collapse of several major lenders (starting with Northern Rock) has helped exacerbate the situation greatly.
For most people, finding a mortgage is proving fiendishly difficult. The Council of Mortgage Lenders recently announced that mortgage lending dropped another 8% in January. Banks remain unwilling to lend to most customers unless they have a deposit of between 30% and 40%. Anyone else is simply being deemed as too 'high-risk'.
Until the mortgage market becomes more accessible to customers, especially first-time buyers, house prices will continue to remain at depressed levels.
However, the housing market has not dried up completely. Investors with cash to spend and who don't need to obtain a mortgage are looking at the market and finding opportunities.Most property experts are predicting that house prices still have further to fall, although there is the chance of a recovery in a couple of years and, if the recent measures to stimulate the economy take effect, that greater numbers of people will start to move back into the market in 2010 and beyond.
You might also like...